Special Articles
---

Texas Lone Star magazine:
TASB:The following link is to the December edition of TASB's Texas Lone Star magazine: &nbsp Dec 6, 2013, 08:44

New From TEA
View Article ] &nbsp Dec 6, 2013, 08:43

Free Webinars
&nbsp Dec 6, 2013, 08:35

The Texas Association of Mid-size Schools Annual Legislative Conference December 13-14, 2013
[ View Article ] &nbsp Nov 19, 2013, 08:31

Projected Impact to LEAs from Potential Federal Government Shutdown
Impact of Partial Shutdown on TEA - By October 1, 2013, the US Congress must authorize the federal budget for federal fiscal year (FFY) 2014. Failure to pass a spending plan by that deadline would trigger a partial shutdown of the federal government. The purpose of this letter is to outline the impact that a potential federal government shutdown would have on Texas local educational agencies (LEAs) and on the Texas Education Agency (TEA) in terms of current federal education grants. [ View Article ] &nbsp Oct 1, 2013, 08:40

School District Bond Data Collection Form


TexasISD.com is working diligently to compile our November 2013 Bond List. Your input is needed! Please let us know if your district or a district near you has called an Election to be held on November 5, 2013. Once we have compiled and verified all data, the list will be posted on The Lone Finalist.

View Article ] &nbsp Sep 10, 2013, 08:47

TBG Solutions: FREE - Be Safe in CyberSpace: A Family Guide to CyberSafety - Free ebook to the first 50

Don't get fired over Facebook! Or create a liability for your school. Learn how to navigate social media correctly so that you don't get yourself into a sticky situation online.

There are risks in using the internet. Harassment, stalking, identity theft and even blackmail and kidnapping are risks that could come from exposing too much information online. It is important to know how to use the internet safely in order to have a positive online experience. It is important for teachers, employers, employees, kids and parents to know how to apply these skills at home, at school, at work and in public places such as the library, and internet hot spots such as coffee shops and restaurants.

In BeSafe In CyberSpace Mark Seguin will give you a step by step guide on how to be safe online. From texting to cyberbullying to social media outlets, you need to be aware of how to keep your family safe.

Use the code "texasisd" and the first 50 get the ebook for FREE

[ View Article ] &nbsp May 17, 2013, 08:45

TexasISD.com Endorsed Product: TBG Solutions


TexasISD.com anounces our endorsement of TBG Solutions. TBG and its CEO, Mark Seguin, have a proven track record providing both staff and student training regarding Social Media Safety, Cyberbullying & Sexting/Texting. We are excited to partner with TBG to roll our their Active Shooter Training for staff and students. This is definitely an issue that all districts should consider.
[ View Article ] &nbsp Apr 30, 2013, 08:49

In Search of Van Cliburn
HE WAS A WORLD-RENOWNED PIANO PRODIGY WHOSE ROMANTICISM AND TECHNICAL VIRTUOSITY INSPIRED THOUSANDS AND FAMOUSLY HELPED THAW THE COLD WAR. BUT AS A VISIT TO HIS HOMETOWN OF KILGORE MADE CLEAR TO ME, HE WAS ALSO A TEXAN, A SOUTHERNER, A BAPTIST, A PATRIOT, AND A MAN WHO LOVED BLACK-EYED PEAS AS MUCH AS I DO. [ View Article ] &nbsp Mar 1, 2013, 08:31

Basic School Finance Interactive Webinar 2013
This is your LAST CHANCE TO SIGN UP! Classes begin on Wednesday.
Basic School Finance Interactive Webinar 2013

Join Joe Smith as he guides you through school finance tackling various subjects related to making your understanding of school finance more comprehensive and helping your application of the subject matter result in accurate financial projections and educated analysis of your districts data.

Course Length: 5 - 2 hr sessions.
Frequency: One session per month - Jan. - May
Cost: $400 per participant

[ View Article ] &nbsp Jan 15, 2013, 08:45

Is your District having a TRE (Tax Ratification Election)? TexasISD.com would like to know about it.
TexasISD.com compiles this and other data in order to bring you data driven information, please help the cause. &nbsp Sep 5, 2012, 08:46

Mary Ann Whiteker: Become a messenger for change
Readers continue to ask for the link to this article by Hudson ISD Superintendent Mary Ann Whiteker. Therefore, I am posting it again and will leave it up for a few days. You have her permission to share it. - js - webmaster@texasisd.com
Malcolm Gladwell's book "The Tipping Point: How Little Things Can Make a Big Difference" looks at how major changes in our society often happen due to ideas, behavior and messages spreading in a manner similar to the outbreak of an illness — hence the coining of the term, "social epidemic." Gladwell used Paul Revere's famous ride to Lexington to illustrate the power of "messaging." Following the Boston Tea Party, the American Colonists reached a point of no return. Revere became the "one man — one voice," starting a social epidemic that eventually led to the creation of a new nation! Revere carried the message; however, those he told carried the message to others — thus the epidemic. The contagious "spreading" of the message resulted in a new beginning for America. [ View Article ] &nbsp Jul 10, 2012, 08:40


A sixth school funding lawsuit has been filed against the state by Texas charter schools today. I chose a few of the approximatly 70 articles and posted them together to cover the filing. -js &nbsp Jun 27, 2012, 08:42

Candidates With Education Backgrounds
Updated 04/24/2012 - I am working on a list of candidates with educational backgrounds at the request of several readers and I need your help to make it complete. &nbsp Apr 25, 2012, 08:45

Election 2012 (the links below contain important voter information - please share with your staff)


Have you liked us on Facebook? Are you following us on Twitter?


Submit Election Results


TexasISD.com: Basic School Finance Series with Joe Smith
Join Joe Smith as he guides you though school finance tackling various subjects related to making your understanding of school finance more comprehensive and helping your application of the subject matter result in accurate financial projections and educated analysis of your districts data. &nbsp Nov 4, 2011, 08:31

Utility Posting Template Still Required
Note: Utility Posting Template Still Required: (Link to 2011-12 Energy Template). Template to post utility usage & aggregate cost on school district web page as required by HB 3693 is still required on district's web page &nbsp Oct 29, 2011, 08:47

Required Budget Postings on Website
Don't Forget This! Two Budget postings are required. Templates for posting are provided by ESC 12 at this link.
---
&nbsp Aug 29, 2011, 08:40

Updated Template - Release 4
Tools: A new template that reflects the school finance provisions contained in SB 1 for the 2011-12 and 2012-13 school years is now available (release 4 dated 8/3/11). The template can also be used for the 2010-11 school year as well, as it reflects the latest from TEA for that year (ADA decline adjustment and property value decline adjustment will not be made). As usual, please check periodically for updates.
Note: The changes in release 4 of the template are related to the "Notice" tab and the "Rate to Maintain". - js &nbsp Aug 10, 2011, 08:42

Annual S&E and Equity Center Finance & Legal Seminar
See you in Round Rock! I will be presenting at the Annual Swartz & Eichelbaum and Equity Center Finance and Legal Seminar July 28-29 (Thursday and Friday). I will also be assisting a team from the Equity Center in individual template reviews. Looking forward to seeing many of you. Austin Marriott North, 2600 La Frontera Blvd, Round Rock, Texas 78681,(800) 627-7468 - Registration &nbsp Jul 28, 2011, 08:41

Read Right: Reading Intervention Program for Grades 3-12 Receives High Marks from National RTI Review Team


An independent study of the Read Right Reading Intervention Program, used by dozens of Texas schools with extraordinary results, recently was reviewed by the National Center for Response to Intervention (NCRTI). The outcome: Exceptionally high marks for the quality of the research.

&nbsp Jun 22, 2011, 08:31


SB 1 postponed until 11:30 am Today. &nbsp Jun 9, 2011, 09:47

Clements' funeral service will be Thursday in Dallas
Funeral services for former Texas Gov. Bill Clements will be Thursday in Dallas. Clements, who in 1979 became the first Republican elected governor in Texas since Reconstruction, died Sunday. The 94-year-old had been ill for several months and grieving the death of his son, who was shot by a neighbor last year in East Texas. [ View Article ] &nbsp May 31, 2011, 08:31




Special Memorial Day Post

&nbsp May 30, 2011, 08:00



---
&nbsp May 29, 2011, 08:03

Richardson ISD makes final *budget* tweaks
The board is making these calls even though the Texas Legislature seems unlikely to come up with a school finance plan before the regular session ends May 30. District Superintendent Kay Waggoner told the board that she and her staff are hoping for a ... [ View Article ] &nbsp May 17, 2011, 08:26



---
Protect every dollar of your district's funds! Join me in a GoToMeeting to hear about PAYTEK check recovery. PAYTEK offers more than the 100% return you get with other companies. (One of our districts had an 118% annual return.) - TexasISD endorses this service, not only because of their superior service, but because their knowledge of schools' needs is unsurpassed. - Register today...Go To Meeting 10:00 AM tomorrow for more information.
---
&nbsp May 5, 2011, 08:31

Has the Percentage of Texas Public School District Staff Who Directly Impact Student Outcomes Changed over the Last 20 Years?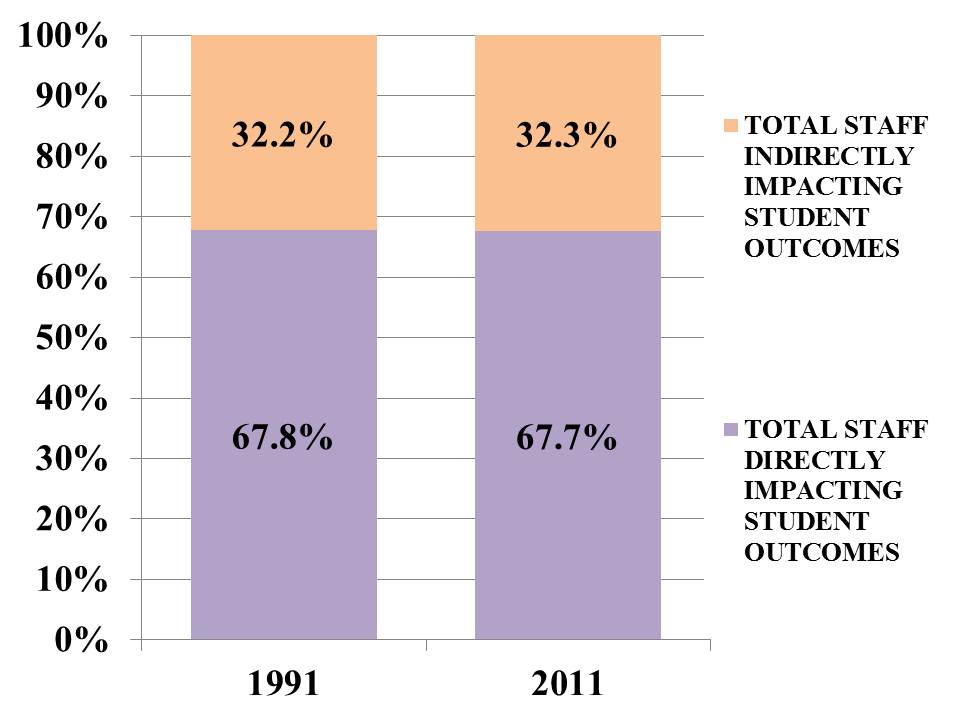 READ! In the last post, I showed that the decrease in the percentage of teachers was largely due to an increase in support staff. But support staff is a catch-all that covers a wide variety of individuals. As it turns out, a fair percentage of support personnel are located at schools and have a direct impact on students. A significant percentage also provide teacher support. Below I review this in (agonizing) detail. The goal here is to document the percentage of individuals in positions that directly impact student outcomes. The reason for doing this is to determine how many positions could be cut without directly impacting student outcomes. I want to do this to disprove some comments by the governor, other politicians, and lobbyists that school districts are choosing to lay off individuals who directly impact student outcomes. [ View Article ] &nbsp Apr 11, 2011, 08:39